FLEXIBLE SEEDING SYSTEM DELIVERS COST SAVINGS AND IMPROVED ESTABLISHMENT
Added flexibility, significant cost savings and better crop establishment are among the benefits realised by West Yorkshire arable farm manager John Hogg since he introduced a new method of one-pass drilling of oil seed rape last year.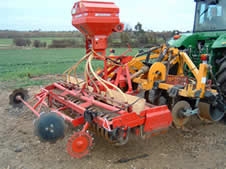 Mr Hogg grows some 660 acres of rape, winter wheat and spring peas at Manor Farm, George Lane, Notton, Wakefield. Last August he bought an OPICO Vario-Cast 8 electronic pneumatic seeder, which he mounted on top of a lightweight 3-metre power harrow. This runs behind a 7-leg McConnel Shakaerator and allows the seed to be blown underneath the roller.
The new set-up allowed him to drill 185 acres of rape into winter wheat stubble in one pass with no previous cultivations at all.
The reduction in the number of operations brought some immediate advantages. "We didn't need to disk and press the stubble which released a man to take on a cultivation contract nearby," said Mr Hogg. "In fact we've got the same job again this year."
The rig averages just under 5 acres an hour with a 160hp John Deere tractor and is narrow enough to be transported easily between fields. "In a one pass set-up, normally drills are 4 metre which to transport up the road and move between fields in this busy area is a pain in the neck," said Mr Hogg.
"The beauty of the 3-metre system is that we can nip up and do two hours in the morning, then pop home and get back to the combining.
"If we're rained off with the combine, we pick up the seeding outfit and go straight in. It's just allowed us to be more flexible."
Granule application

"We've a bit of a brome grass problem in some fields," added Mr Hogg, "and we were also looking for a machine that would handle Avadex granules. When we had finished drilling the oil seed rape we made up a different frame and brackets and popped the seeder onto the back of the rollers. This allows us to apply Avadex granules as we roll and we can also apply slug pellets in the same way."
The electronic seeder can be controlled from the cab, which means they can switch it on or off, increase the dosage rate on heavier patches of land, and just do 2-3 acres of a field rather than the whole lot.
"There's a cost saving there as well," says Mr Hogg. "We would normally employ somebody on a quad bike to do that.
"It is a very well built and versatile little machine. I can't see that in ten years' time it will be any different from what it is at the moment. We had one or two teething problems in that we couldn't get a low enough seed rate. But one phone call and the OPICO man was up within 48 hours with a new set of gears and a new chain to gear it down to give us the required seed rate."
Establishment "Spot On"

The rape establishment has been spot on and better than before. "It was very dry last year so it really was the time to try it. Had we disc'd and pressed as usual, we would have lost all the moisture before we went to drill with a conventional drill. This allows you to drill and get a roll straight in behind – job's done.
"Because the crop was subsoiled as it was drilled, it's never stood wet, despite us having such a wet autumn. Its always been just working away there quietly. It has a fantastic rooting system on it. The rape is obviously dropped in rough rows right behind the subsoiler legs and down it goes - there's no compaction. All our oilseed rape this year will be drilled that way."
Several options
This year 210 acres of oil seed rape are being grown with the remainder of the cropping down to 390 acres of winter wheat and 55 acres of spring peas.

Depending on timing, Mr Hogg may try to fit the seeder on the platform of the combine and spread behind the header as they cut and chop.

"There is also the option of leaving the machine on the back of the rollers, waiting until the combine's finished and then rattling over with the rollers for light cultivation.

"Or we could put it on the back of a Cousins 4 metre cultivation press – we could drill with that, it's such a versatile machine. Its not overly heavy, it's electrically driven so you can site it exactly where you want it, its just a case of increasing the length of the cable to the control box and off you go.

"Its good to buy a machine that, just a year on, you think – 'that's been an absolute stormer'."