Yorkshire Post - February 18th 2006
Farm of the week.
BROTHERS Nick and Andrew Huddlestone are continually on the lookout to see whether developmens in new technology can be applied beneficially on their West Yorkshire arable farm.
Switching to a new system of oilseed rape establishment has already achieved a number of advantages and they are now in the process of trialling a new system of minimum tillage on other crops.
Nick and Andrew took over the running of Park Balk Farm in Womersley Road, Knottingley following the death of their father, John, eight years ago.
At that time the farm ran to just 80 acres but taking on extra rented land has now upped ths to total just short of 1,000 acres and they are currently negotiating the purchase of another 500 acre farm.
The brothers also run three articulated wagons for grain and potato haulage.
This year's cropping includes 450 acres of oilseed rape, mainly Royal with some Excalliber and Astrid on trial. Other crops are wheat, barley, sugar beet and beans on soil that varies from limestone to medium loam plus some heavy land.
To speed up the oilseed rape tillage and seeding process, last August they mounted a new Opico Variocast eight-metre electronic seeder on to their existing four metre Lemken Rubin disc cultivator. The Till-Seeding combination is pulled by a Fendt 818 195hp tractor.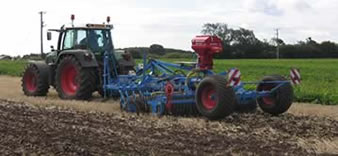 Click the photo for bigger picture.
Nick said: "We thought it would be a good idea and speed up establishment. We just wanted to knock on and get the rape in as fast as we could.
"It worked very well. We used the Variocast for 50 per cent of the crop and the power harrow-drill combination for the remainder, simply because we had taken on some new land which needed ploughing as it was full of trash."
He added: "On most of the land, the Till-Seeding system is to carry out one pass in front with a Lemken Terradisc cultivator and then go straight in with the Rubin cultivator and Variocast seeder.
"But in certain situations we didn't need to use the Terradisc as the Rubin worked so well with the Variocast, mainly on the lighter soil."
Before adopting the Till-Seeding system, the brothers used to cultivate, disc and then power harrow-drill. Sometimes on the lighter land= they would plough, then power harrow-drill.
Nick calculates that the new system is 40 per cent faster and the crop is looking very well.
"Another benefit which we didn't think of at the time is that when you drill normally it puts down the seed in a seam.
"With the Variocast the seed is scattered around which gives better plant spacing with more light around individual plants," he said.
"In terms of cost, we estimate we have saved at least 30 per cent on establishment. In some situations it has halved it when we have just gone in with the Rubin and the Variocast in a single pass.
"Additionally, since using the Variocast we have not suffered from any slug damage. Certainly, we plan to extend Till-Seeding next year.
"We are extremely pleased with the system. With us being so busy having haulage as well, it has saved us a lot of time without affecting establishment in any way. It has been a huge benefit."
Cropping this year at Park Balk Farm also consists of 400 acres of Einstein and Solstice winter wheat for sale mainly to a local grain merchant. There is also 80 acres of Flagon winter barley for malting.
Twenty acres is down to Fuego spring beans and there is 30 acres of sugar beet to fulfil a 450 tonne quota for British Sugar's York factory.
The rotation is mainly two wheats followed by winter barley and then oilseed rape, sugar beet or letting the land off to other farmers for the growing of potatoes and vining peas
Last year the second wheats yielded an average of 3.5 tonnes per acre compared with four tonnes for first wheats in 2004, while the barley came off at three tonnes.
Nick, who is married to Emma and has two children - Alexis, 8, and Matthew, 6 - said: "Previously we used a combination drill for crop establishment but are now using a Lemken Solitaire drill which can be used on a power harrow or directly on the Rubin disc cultivator with the Opico Variocast used for applying slug pellets.
"As well as minimum tillage drilling we are aiming to create a versatile system to cut down on costs"
Andrew is married to Louise and they have three children - Dominic, 9, Sebastian, 6, and Annabelle, 4.
He added: "We saw this system in use in Germany two years ago and were very impressed. We are always willing to look at new technology to see if it can be applied back here at home.