Richard Crane - Deloitte.
- Conference Speaker -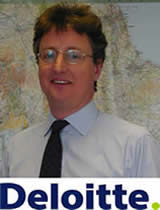 Richard Crane is Deloitte's Food and Agriculture partner for the East of England based in Cambridge.
Having obtained a first class degree in Agriculture from Edinburgh University Richard joined ADAS for two years. After this he joined what is now Deloitte in Cambridge in their farm's department and has led its activities over the last six years as a partner in Deloitte.
During that period he has been fortunate enough to advise many farming families and businesses of all sizes in the region combining his specialist knowledge of farming with the tax and business advisory skills he has acquired in that time.
Richard has several family farming interests of his own including a family farming partnership in Nottinghamshire, a farming trust in Leicestershire and his wife farms extensively near Cambridge. All the business are predominantly arable with property.