TILL-SEEDING GIVES IMPROVED ESTABLISHMENT FOR LESS COST IN MIDLANDS
Earlier seeding for better crop establishment plus cost savings achieved through fewer passes are two of the key benefits arising from a Leicestershire farming company's decision to Till-Seed 700 acres of oil seed rape this year.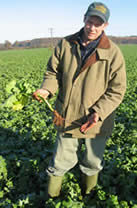 Patrick Taylor and sons Shaun and Adam farm in partnership at Ingleberry Farm, Ingleberry Road, Shepshed, near Loughborough. The business extends to approximately 4,500 acres, from Derby to Leicester, and down to Birmingham.
The main crops are winter wheat and oil seed rape, supplemented by some spring malting barley, and spring beans. The crop rotation is geared to what suits each particular farm but in general, is based on oil seed rape, then wheat, with a second wheat on the stronger land. In some instances spring beans or spring barley have been used in the rotation.
On the lighter land, recently they have been going back in with rape and barley or beans.
Prior to Till-Seeding, the system for oil seed rape was to spray off with Roundup, disc, then drill and roll. An additional pass with a press is used on 20-30 per cent of the land, where there are clods.
A key factor for trying the Till-Seeding technique, using an OPICO Variocast electronic seeder mounted on a Cousins 9-leg trailed subsoiler, was timing – to get the oil seed rape in earlier.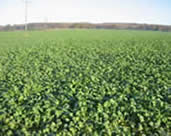 "Some of the land was rutted last year due to the wet season. So, after spraying, we cultivated with a light tined cultivator, then went in with the subsoiler and Variocast seeder. Then we rolled and slug pelleted virtually everything," explained Adam Taylor.
"On some land we just sprayed off then went straight into the stubble. Some was on baled ground, some was on chopped straw."
Till-Seeding was used on two blocks of rape – one of 594 acres of Astrid, Lioness and Expert near Coleshill, Birmingham and a further 104 acres of Astrid and Disco on heavy land close to East Midlands Airport.
"We've had a better take," said Mr Taylor. "On these conventional oil seed rapes we went in at 7 –7.5 kg. Where it was straight into the stubble it seemed about right but where it was on the worked ground germination was greater resulting in a crop that is a bit thick, particularly on the lighter ground.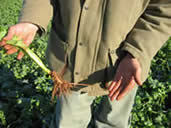 "In general establishment has been very good. We did have a bit of moisture, which is quite crucial, particularly when you are seeding straight into the stubble. We rolled it all behind which again is crucial, twice on the heavy land.
"There have been some slug problems. We have had to re-drill about 35 acres behind the Variocast but having said that, we have had to re-drill behind the Horsch drill as well.
"In general we are very pleased with it. Basically we have cut the cost of the drill out."
The two main advantages, says Mr Taylor, lie in the cost saving and the ability to get the crop in early to get a bigger establishment. "We've not used the system in a wet year so we've no experience of that. But it does leave the ground in very good heart because we go through with a subsoiler and 12 metre rollers. We stick to the tramlines, so there is no compaction."
They will definitely continue with the system and in all likelihood will extend its use, although they will continue to drill as well. "We're not ones for rushing in, we like to try it and see what happens. I think where there is stubble you have got to allow a little more seed. Where we cultivated, we felt it went a bit too thick and next year we'll probably cut the seed back."