SIMPLE, RELIABLE APPROACH CUTS COST OF RAPE ESTABLISHMENT
Simplicity plus reliability are the key factors behind the "minimalist" crop establishment system that has been evolved for the 450 hectares (1150 acres) of winter oil seed rape grown by Bedfordia Farming, Milton House Farm, Milton Ernest, Bedfordshire.
Of the farm's 2200 hectares (5400 acres), 1680 ha (4200 acres) is cropped, the principle rotation being wheat, rape, wheat, rape, wheat and beans. The land is predominately chalky boulder clay, ideal for wheat and rape.
In certain areas there is a block of continuous barley for the pig units.
The company rears 22,000 pigs a year, is currently completing a new biogas plant, and plans to irrigate slurry on to the fields to reduce the fertiliser bill.
The Till-Seeding technique for the rape, now in its second season, is based on the Quivogne Tinemaster disc and tine cultivator and the Cousins V-form soil loosener, both fitted with OPICO Variocast Electro 8 seeders.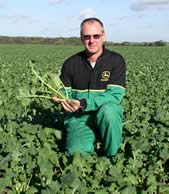 Castille, Winner and Expert are the favoured rape seed varieties, grown from the farm's own seed. The aim is to start seeding from the 12 th to 15 th of August and to try and establish all the rape within one week - so both machines are used in a single pass operation.
Providing the pulling power is a 350hp John Deere 9300 equipped with full autosteer to maximise output. Depending on field size, the combination achieved an output this year of 35-40 ha (86-98 acres) per day.
"It's all about cost control," explained Ian Rudge, arable manager.
"The main benefits are cost of establishment – I believe it to be more reliable than true autocast –plus it retains the moisture. That's the single most important factor."
By having the loosening tines working at a depth of about 200-220mm (10in), the system removes any compaction created during harvest.
"We are also incorporating the straw rather than leaving it on the top and then consolidating with the press. Then we ring roll and put slug pellets on at the same time," said Ian.
"This year the slug issue is greater than last but we've had no problems with the establishment of our rape."
Cost is calculated at £40 per hectare for establishment, says Ian – "and then you have to ring roll, regardless of what establishment method you use. With increasing fuel prices you've got to look to do the job with a minimalistic approach."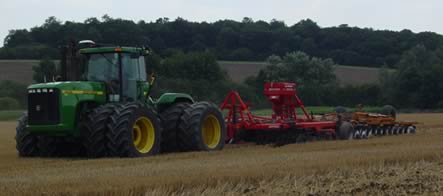 Last year's average yield across the board was 3.65 tonnes per hectare in what was a very difficult year for establishment.
Potential benefits, apart from cost control, lie in the system's simplistic approach. "It's a reliable means of establishing rape," says Ian. "It allows us to be fully focussed.
"The Quivogne is used for our seedbeds across the board, except for spring cropping. We put the Variocast seeder on, and we can establish our wheat seedbeds, or cultivate rape or bean stubble. Then, when the conditions are right, we just drop the wheel down, fill it up with seed, have it calibrated and start seeding oil seed rape.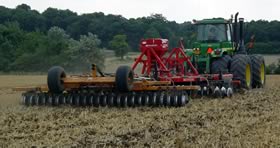 "You don't have to drop the machine off and start again."
Ian admits to being "quite stretched" with nearly 450ha of rape within a 7-day window of opportunity. So he plans to acquire a second 5.2m Quivogne Tinemaster with a 5.5m. Simba double press and a Variocast 8 electronic seeder with hydraulic fans.
"We are aware that there's no room for second best in anything," he says. "We need to get good averages, no matter what crop we're establishing.
"Oil seed rape is one of the hardest crops to establish reliably year on year. Attention to detail and monitoring is crucial. It gives the biggest management headaches of any crop in that early stage. From then on, it's a breeze.
"For me, the Till-Seeding system we have in place now is a straightforward technique that will work year in, year out."