PROMISING RESULTS OF TILL-SEEDING RAPE ON LINCS FARM
Results from till-seeding 100 acres of oil seed rape on a "try it and see" basis have proved sufficiently beneficial for a large scale North Lincolnshire farming operation that it is planned to extend the technique considerably next year.
Depending on how the rotation fits in with their other cropping, Dan Albone & Son Ltd of Home Farm, Scawby, near Brigg, grow between 1200 and 1500 acres of osr, mainly Castille and Astrid varieties.
Such is the spread of the acreage that by this year the need for extra drilling capacity had become acute.
"I've a six metre drill that needs to be in nine parishes and three counties at the same time," explained Mr Albone. "You can't do it. Therefore I needed another drill. The choice was buying a second-hand one, which could have meant trouble; buying a new one, which I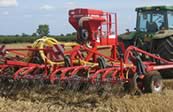 could ill afford; or carry on as before, which really wasn't an option.
"Therefore the bright idea was a fourth option: to adapt a piece of machinery I already had – a Simba Horsch Terrano 8 metre cultivator with Simba DD press rings on the back – by fitting it with an OPICO Variocast 16 seeder."
As far as the capital cost of the equipment was concerned, it was no contest. Mr Albone calculates that a new 6 metre drill would have set him back £45,000, whereas for £5,500 that he paid for the OPICO Variocast 16 he has created a 8 metre drill.
Pulled by a 300hp John Deere 8410 tractor, the combination drilled 100 acres over 4/5 hours in mid-August on various small parcels of land. "We only used it on 100 acres, on the basis that I needed to learn," said Mr Albone. "I didn't want to go and put a thousand acres in and suddenly find that it wasn't working."
It's not the panacea for all land types, he stresses. "It works best on lighter, 'gentlemen's soils' but for the heavier type soils two passes are needed.
"We also had to assess whether the old tram lines were going to be visible. When we first did it there was so much straw that it looked an absolute mess but within a couple of weeks the old tramlines emerged and you could see them all.
The work rate of 20 acres per hour was impressive, said Mr Albone. "What's more, because we had a double press on the back we didn't have to roll."
Another advantage with the set-up is that it handles "massive amounts" of trash, he says.
"You don't have to bale the straw, just leave it where it is. We went directly across the combine swath and spread it across the field. It's quite remarkable really.
"And of course the most important thing is that you don't have to take away straw residues."
"On one field I had the subsoiler working ahead of it on the heavier land which is not the thing to do – the land came up too savage. You really want to use it as a minimum cultivation technique.
"If I'm going to have to subsoil then I think I'll have to purchase another OPICO seeder and mount it on the subsoiler."
The crop itself "looks very good", he says. "It keeps moisture in a dry time because you are only doing it with one pass.
"There's no problem at all on the lighter soils, but on the heavier soils where we tried it, there are problems with slugs and germination - we are going to have to give some more thought to this."
The idea, he sums up, is to make the till-seeding operation easier so that they can push on with other jobs. "We shall certainly do more next year and overall, I'm very optimistic about the potential."