For Farm Contractor (May 2006 - Issue No. 365)
ONE-PASS TILL-SEEDING TECHNIQUE SLASHES
COST OF RAPE ESTABLISHMENT IN GLOUCESTERSHIRE
Adopting a single pass Till-Seeding system has enabled a Gloucestershire farmer and contractor to slash the establishment cost of over 300 acres of winter oil seed rape.
J. J. Farm Contracting, based at Far Stanley, Gretton, Cheltenham, grow 250 acres of rape on contract and a further 70 acres on their own farm.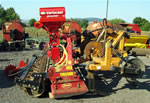 Last July, in a bid to cut establishment costs, they purchased an OPICO Variocast 8 seeder. The unit was mounted on a 3 metre Vicon Power Harrow that operates behind a McConnel Shakerater cultivator. The seed is blown from the Variocast's 6/7 outlets just in front of a packer roller on the back, which rolls the seed into the ground.
" Our practice until this year has been to disc a couple of times, go through with the Shakerater or a subsoiler, then power harrow and drill," explained J.J. Farm Contracting's David Jenkins.
"However, the new set-up enabled us to do everything in one pass, straight into stubble after the straw was baled.
"We started straight after the barley had been harvested and did that quite quickly. Then we were waiting for the spring wheat to be harvested, so it was a stop-go situation.
"However, although it was a slower operation at just under 3 acres an hour, the fact that it was a single operation, rather than four, more than compensated," said Mr Jenkins.
Crop establishment has been impressive, he says. "When we first looked at some of the fields, we wondered whether we had done the right thing, because the conditions weren't very acceptable.
"But now you look at how it's growing, it really is amazing.
"I think it's because we put it straight into moisture. We are very pleased with the take-up."
On their own 70 acres, they subsoiled first and then used the Variocast/power harrow combination for seeding.
"The uptake was nowhere near as quick as straight into stubble," said Mr Jenkins. "We had a better seedbed on the land that was worked but lost all the moisture."

The flexibility of the system appeals to David Jenkins who, as well as contracting, runs a mixed farm with 350 arable acres and 150 acres of grass supporting beef cattle and single suckler cows.
This year he planted the grassland using the seeder/rotary cultivator, and despite some of it going in late, it has all come up and is looking good. They plan to drill a "fair bit" of grass with the Variocast in the Spring.
Other advantages of the Till-Seeding system include a reduction in compaction – "but we probably won't see the benefits of that until we get next year's crop", he says.
There are also savings on labour and fuel. "Every bit you can save is a bonus," says Mr Jenkins, who believes that the Variocast will come into its own next year and pay for itself.
Please click on a picture to enlarge.