28 th March 2003
NEW RAPE SEEDING SYSTEM WORKS WELL ON SUFFOLK FARM
A quick and accurate system for low cost establishment – that's the verdict of Suffolk farmer Nigel Webber after switching last Autumn to a new system of seeding this year's crop of oil seed rape.
Mr Webber farms some 600 all-arable acres at Home Farm, Barningham, Bury St Edmunds. The land is variable, contains quite a lot of sand, has a tendency to stick, and caps in fine weather.
Main crops are 230 acres of winter wheat, 98 acres of winter and spring barley, 90 acres of winter oil seed rape and 100 acres of sugar beet. This year on setaside land there will be a further 36 acres of spring sown rape and 40 acres of Abyssinian mustard, which is crushed for oil.
Mr Webber farms the unit largely on his own, with occasional help from a neighbour which includes the ploughing after harvest. He is therefore reliant on high output, specialised machinery and equipment to keep up with the job.
Rape has been an important crop on the farm for nine years, but finding the right format for seed application and good crop establishment has involved experimenting with several different methods - not all of them successful!
"One year I did everything I thought was right – ploughed, harrowed, drilled and rolled - but I think the seed went in too deep because the establishment was poor," he recalled. "It was very dry at the time but three or four days after drilling, we had about an inch of rain in one day which capped the soil over the seed.
"It's a lot of work drilling, and it's slow, so I decided to go for a quicker system."
In 2001 he tried a full width hopper mounted on a 4-metre subsoilerbut couldn't get the calibration right.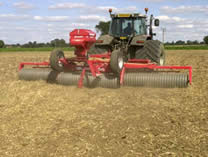 Last autumn he switched to an OPICO Vario-Cast 8 metre pneumatic seeder which he mounted on a set of 6 metre OPICO rolls.
Ten acres of setaside land was subsoiled, disked twice, then seeded and rolled.
Of the other 80 acres down to rape, one third was setaside and the remainder was barley stubble. This land was ploughed with a 5-furrow Kverneland with press, brushed with a 6 metre wide Lemken straight spring tined harrow with rollers, then seeded and rolled.
"The seeding and rolling was a quick and easy job," said Mr Webber, " and we covered about eight acres per hour.

"The other main benefit is the accuracy of the seeder which is necessary with very small rape seed. Establishment in this first year has been very good because the seed is quite close to the surface and you're getting good contact with the roller."
On the strength of the success of the crop so far, Mr Webber believes he has found the most successful system to date. However, he will carry on ploughing. "Establishment has been very good where I've ploughed and not so good where I didn't. My personal opinion is that I don't think you can get away without a plough – it gives a cleaner start for everything.
"What's more, I haven't spent so much money on chemicals for weed control on the ploughed land. "