KEEPING IT SIMPLE IN SHROPSHIRE
At Home Farm, Lilleshall, Shropshire grower Robert Timmis appreciates the value of low biomass oilseed rape as much for its reliability and ease of management as for its earning potential. In the highly focused, high output wheat-based business he, his father Geoffrey and mother Gillian run on their 1400 acres (570 ha) of mainly heavy land near Newport simplicity and consistency is everything.
Over the past seven years they have streamlined their operations substantially to concentrate on what they do best while driving down costs. They have moved progressively away from the traditional Shropshire mixed rotation to concentrate on cereals and oilseed rape. At the same time they've switched entirely to minimum tillage. And two students at harvest are now their only employees.
Apart from a small amount of lighter land on which they continue to grow sugar beet followed by wheat and barley, the bulk of the farm is in a wheat/wheat/rape or wheat/rape/wheat rotation. A total of 400 acres go into rape annually – including an industrial contract on the set aside – alongside 800 acres of wheat grown out-and-out for yield.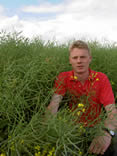 "When I came back from Cirencester in 1997 we were only growing about 40 acres of rape a year," explained Robert. "But as we've dropped potatoes from the rotation and increased our overall acreage, we've steadily upped both our wheat and rape-growing.
"We're on the sort of land that enables us to bring in 4-5 t/acre (10-12t/ha) from first wheats and, with Latitude take-all seed treatment we've been able to get a good 4t/acre from many of our second wheats.
"So it makes sense to concentrate on wheat, balanced by rape to make the most of the one set of machinery, minimise our labour requirement and keep on top of grass weeds while providing us with the best possible cereal entry."
Rape is very definitely a 'supporting act' to the wheat at Home Farm. Robert is keen to do as little as possible to the crop to both minimise its growing cost and allow him to concentrate his time on the main breadwinner. But this doesn't mean he is content to accept less than the best possible performance from it.

Over the past few years, he has fine-tuned his rape growing substantially to produce between 1.8 and 2.0 t/acre (4.5 - 4.9 t/ha) across the farm in a highly economic system.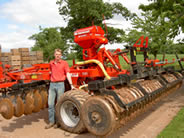 And he's continually innovating to improve things further, his latest venture being to try single pass cultivation and sowing by mounting an Opico Variocast just ahead of the packer roll on his 4.2 m Besson Discordon 4.2 m heavy disc and subsoiler combination.
"Every crop has to stand on its own as well as stack-up in the rotation these days," he insisted. "So you've got to be serious about getting the very best from your rape. You've also got to make sure you do so consistently every year at the minimum risk and cost. Which is where we've found low biomass types really score.
"Since moving on from Apex, we've tried all sorts of varieties over the years, including Pronto, Cohort, Canberra and Winner. We always desiccate with glyphosate and direct combine, so we've found the low biomass of Canberra particularly valuable – very much like Apex, in fact.
"A good foot shorter than the hybrids and Winner and always producing an even, well-mannered crop, our Canberra has been reliably easier and faster to harvest," pointed out Robert. "Indeed, we've even been able to combine it almost as fast as our wheat, clearing 70 acres in a day with our John Deere 9640 on one occasion.
"This is particularly important to us in both clearing the way for our wheat harvest, and in clearing the ground for our early wheat drilling.
"We typically bring the rape in during the last 10 days of July and tend to be starting on the wheat harvest from the first week in August. With our limited labour, this doesn't give us a lot of leeway. Especially as we need to get straight in behind the rape with our Discordon to give us the best chance of a decent Roundup stale seedbed ahead of drilling our first wheat from the first week in September.
"A few extra days at this time of the year makes a huge of difference to us," he stressed. "That's why we've always had a lot of time for Canberra and have gone for the new high output, low biomass variety, Castille in a big way this season."
Even though the Castille went in later than Robert Timmis would have liked last autumn – the first week in September rather than the last in August – and faced a difficult, wet winter, he's been impressed by the variety's establishment vigour and ability to cope. It got going strongly this spring, flowered for a good long period and has podded-up well.
What is more, for the first time this year he's done without a growth regulating spring fungicide and found no problems whatsoever. Unfortunately the same cannot be said of the Royal he drilled two weeks earlier and at a rather higher rate than advisable. It has lodged badly and is shaping-up to cause serious harvesting headaches.
"With hindsight, it's easy to drill rape too thickly," noted Robert. "Especially, when you have to make the sort of provisions for slugs and pigeons that is so essential round here with our heavy ground and all the woodland.
"The fact that we have to get the crop in early – comfortably before the end August if at all possible – compounds any problems. And with our autumn workload we really can't afford harvesting difficulties and delays.
"One of the great joys about low biomass rape is that, within reason, we don't have to worry about these sorts of problems. Which means we can save ourselves time and money by not bothering with a spring fungicide for growth regulation at minimal risk. The excellent stem canker resistance shared by both Canberra and Castille is important here too.
"Because Canberra has done us so well in recent years, I had no hesitation going for its higher yield potential stablemate, Castille this season. In fact, I'm actually considering putting our entire rape acreage down to the variety for the coming season. Low biomass varieties are just what we need for our simple system where time is a such a premium."