For Farmers Guide (May 2005)
31st March 2005
TILL-SEEDING IS FLEXIBLE AND CHEAPER, SAYS NORTHANTS FARMER
Flexible, cheaper, simpler – these, according to Northants arable farmer Tim Harvey, are the key advantages of using the Till-Seeding technique on his 290 acres of oil seed rape.
Mr Harvey is now in his second year of single pass subsoiling and seeding directly into stubble, although his father and brother, who farm in the north of the county near Oundle, have been developing the system for the past twelve years.
He grows 1000 acres of winter wheat, winter barley and spring beans at Brampton Hill Farm, Chapel Brampton. The land varies from Northampton sand, which produces barley and rape in rotation, to medium/clay loams, with black alluvial clays near the river.
The main driver behind the switch to Till-Seeding was cost. "Previously, after burning, we were ploughing and pressing, followed by a Kuhn Roterra, then direct drilling and rolling. Now we drill straight on to the stubble and chopped straw – except in the barley, which is worth baling – and roll."
The mulch of the chopped straw helps keep the moisture in the soil, which is an added advantage, especially in dry conditions, he says.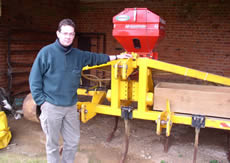 The Till-Seeding system at Brampton Hill Farm employs a 3.5 metre wide OPICO Variocast 8 seeder mounted on a McConnel subsoiler with seven legs set 17 inches apart. "It doesn't take a lot of tractor power because we only go down 6-8 inches," says Mr Harvey.
"The McConnel brings up more soil without too much heave, so the seed is going into a good soil mix about 12 inches behind the legs in a band 5-6 inches wide."
Following behind the subsoiler is a Cousins double press with the tines taken out of work. "In a wet year like last year that's all we do because you can press in moist conditions when Cambridge rolls would fill up. In the dry years we just roll as a matter of course."
On a good day, an output of 50-60 acres is easily achieved, he says.
The key advantages in Mr Harvey's view are cost and simplicity, although flexibility is also important. "In a catchy harvest, if we are rained off one afternoon with the combine, two operators can just go off and get on with it," he says. "There's no need for someone to prepare the ground in front of the drill, which is time consuming and costly. It's a very simple system that works."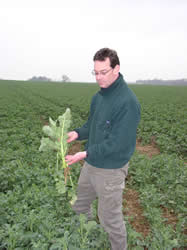 As far as establishment goes, slugs are the biggest enemy, says Mr Harvey, and pellets are applied straight after the drill on susceptible areas. He also sprays against flea beetle and volunteer competition.
"In a dry year on heavy land any subsoiler is occasionally going to move a large plate of soil so following machinery, sprayers particularly, can take a bit of stick."
They also find it good practice to drill at approximately 30 degrees to the original tramline, so that the tramline still shows.
"Overall, the system is incredibly flexible, simpler and cheaper", he says, "and while there has been no yield increase, there has been no penalty either."
Please click on a picture to enlarge.